Canasis Store

Canasis Graphic CD

$30.95 + $3 shipping
only $21.95 more
This is the Graphic CD, without the Sound CD and extras, from the Premium Boxed Set. Get into any mood you want with many background themes, deck styles, and more. Express your many sides with Portrait Maker™ and hundreds of chat smileys.

Designed for years of fun playing, not days.™

Do I actually get a CD or just download?

We actually ship out our retail-packaged box with the Graphic CD inside. No download required. This product has too many great graphics and features to put in a simple download.

What games does the CD have?

This product works for all of the games we currently have and will work for any games added in the near future at no extra charge. This includes canasta, spades, euchre, pinochle, hearts, dominoes, chess, checkers, dots, and more.

Is there a monthly or yearly subscription fee?

No. Unlike many places on the internet that charge monthly or yearly fees, this product can be used for as long as you want without any monthly or yearly fees.

Can I try Canasis before I buy?

Yes. You can download and play, for as long as you like, the basic free version of Canasis to make sure you like it and it works nicely on your computer. Just visit the homepage for details about that. Then when you are ready to enjoy the full Canasis experience, you can wisely invest in this premium product too.

What This CD Includes:
Portrait Maker™

The fun way to express your many sides! Show your online friends who you are, who you want to be, or what mood you're in. Share and compare your character with everyone else who has the set, for many laughs. Realistic and super customizable: hair style, clothing, eyes, noses, colors, hats, accessories, makeup and more.
Chat With Smileys And Sounds

Feel closer than ever to online friends. Over 400 smileys help you quickly make your point and show exactly how you feel. And with 100's of talking things for them to say, awkward silences will be replaced by fun and laughter!
Decks, Dominoes, and More

Stop your squinting! There's a gallery of large-sized beautiful decks to suit your every taste. Easy to read decks, funny decks to make you smile, and elegant classic decks to relax you. Chess, dominoes, and other games also have plenty of quality styles to keep your eyes happy for years.
Background Themes

Get into any mood you want. These gorgeous carved environments help you set any tone - relaxation or excitement, concentration or fun. Almost 70 choices keep your experience fresh month after month.
Everything Else
Naturally, the boxed set includes all the features Canasis is famous for.
More rule variations of each game
Make your own rules or invent new games
Play over the internet or against the computer
Live free technical support 24/7 online
Built-in messenger for convenient private chat
Detailed progress stats like your skill rating and winning streaks
and so much more...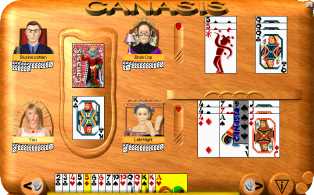 Can I turn graphics on and off?
You have full control over what you see and hear. You can choose which themes, decks, and features you want or do not want. You can also let the graphic themes change automatically every hour, day, week, or month.
Do I save money by buying the Graphic CD and Sound CD together?
Yes, you not only get both CDs at a discounted price, but you also save money on shipping by ordering the Canasis Premium Boxed Set. You will experience Canasis with everything the product has to offer. Your time is valuable, when you play online you want maximum fun and relaxation. Why hold out on yourself?
Are people who bought it happy with it?
Absolutely, otherwise they would have returned it for a refund. We have spent years making the CDs and listened closely to our customers every step of the way. But you don't have to take our word for it, feel free to login to the chat and ask a few people with the CDs if they are happy with them. Or buy it and if you don't like it, simply return it for a refund.
What is the return policy for this product?
If there is ever a mistake on our part for your order, we will issue a refund.
If the product is returned to us unopened within 45 days, we will issue a refund.
If the product is opened and used for no more than 1 week, we will issue a refund.
If you decide you want a refund, please contact us before sending it back.
How long does it take for the product to arrive?
Products are generally shipped out within 48 hours. After that, please allow for standard post office shipping times which depend on where you are located.
Can I buy this in retail stores?
A lot of people have asked this, but it is not currently possible. We are looking into getting the product onto store shelves this year. In the meantime, our online store accepts many methods of payment both over the internet and through the mail (full list is on the store homepage or after you click the "buy" button).
What are the computer requirements?
Microsoft Windows 98se, ME, 2000, XP, or Vista. 800x600 or higher resolution. 750mb hard drive space (150mb minimum for as-needed partial install), CD-rom drive, Internet connection for online playing and product activation.
Legal notes:
Products are licensed for use on exactly 1 computer
Sharing with friends or use on multiple computers expressly forbidden
Product may be purchased for public computers (library computers, school computers, etc) but can not be copied
Products can not be resold or rented after first use
Gift giving or reselling is allowed so long as the product has not been opened or used yet
Transferring to a new computer (computer upgrades or replacements) is allowed so long as product is completely removed from current computer first. Notifying us of the change in license from 1 computer to another is recommended but not required.
Product does not include hide ads built-in, that is a seperate product

(Full set is only $21.95 more)
Clicking buy will give you the option of paying online (credit card) or paying by mail (checks, etc..)
---
Copyright © 2006 by MPI. All Rights Reserved.